The 2018 Eliminators took place at Ossett, Selby and Southwell on Saturday 24th March – details below.
Congratulations to: the Ancient Society of College Youths, Birmingham, Bristol, Exeter, Guildford, Leeds, Melbourne, St Paul's Cathedral and the Society of Royal Cumberland Youths who will join Cambridge in the final in June.
 The Final will take place at Great St Mary's, Cambridge
on Saturday 23rd June.
DRAW: 1100
Click here for further information
from the Society of Cambridge Youths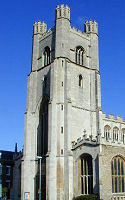 JUDGES:
Katherine L Town (chief)
Jennifer E Earis
Benjamin J Carey
TEST PIECE:
Eliminators: first six leads of Cambridge S Maximus, brought round with plain hunt;
Final: one lead of Primrose S Maximus followed by five leads of Cambridge S Maximus.
ELIMINATOR INFORMATION:
Ossett
Selby
Southwell
Draw at 1130am
Draw at 11am
Draw at 11am
Local information
Local information
Local information

Judges

:
Katherine L Town (chief)
Jonathan A Agg
David J Dearnley

Judges

:
Jennifer E Earis (chief)
Anthony J Bloomfield
David J Pipe

Judges

:
Benjamin J Carey (chief)
Helen M Beaumont
Thomas W Griffiths
1130
1200
1230
1300
1330
1400
1430
5th: Chilcompton (3h40, 58%)
1st: ASCY (3h39, 77%)
4th: High Wycombe (3h39, 60%)
3rd: Leeds (3h31, 68%)
2nd: Exeter (3h33, 75%)
6th: Towcester (3h29, 50%)
1st: Birmingham (3h24, 90%)
3rd: SRCY (3h34, 80%)
4th: Southwark (3h44, 70%)
5th: Stockton (3h51, 65%)
6th: Chester (3h27, 59%)
2nd: St Paul's (3h38, 81%)
3rd: Guildford (3h36, 73%)
4th: Oxford (3h35, 71%)
1st: Bristol (3h33, 83%)
6th: Norwich (3h37, 55%)
2nd: Melbourne (3h39, 78%)
5th: Wimborne Minster (3h28, 65%)