The 2018 final will take place at Great St Mary's, Cambridge on Saturday 23rd June.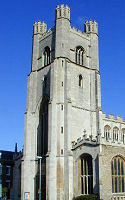 The eliminators will take place at Ossett, Selby and Southwell on Saturday 24th March.
Test piece:
Eliminators: first six leads of Cambridge S Maximus, brought round with plain hunt;
Final: one lead of Primrose S Maximus followed by five leads of Cambridge S Maximus.
Entries will open on 27th October 2017. Watch this site and the RW for more details.