Congratulations to Birmingham who won the 2018 contest.
The Final took place at Great St Mary's, Cambridge.
The results are:
Click here for further information
from the Society of Cambridge Youths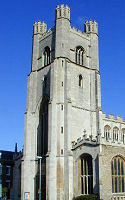 JUDGES:
Katherine L Town (chief)
Jennifer E Earis
Benjamin J Carey
TEST PIECE:
Eliminators: first six leads of Cambridge S Maximus, brought round with plain hunt;
Final: one lead of Primrose S Maximus followed by five leads of Cambridge S Maximus.
ELIMINATOR INFORMATION:
Ossett
Selby
Southwell
Draw at 1130am
Draw at 11am
Draw at 11am
Local information
Local information
Local information

Judges

:
Katherine L Town (chief)
Jonathan A Agg
David J Dearnley

Judges

:
Jennifer E Earis (chief)
Anthony J Bloomfield
David J Pipe

Judges

:
Benjamin J Carey (chief)
Helen M Beaumont
Thomas W Griffiths
1130
1200
1230
1300
1330
1400
1430
5th: Chilcompton (3h40, 58%)
1st: ASCY (3h39, 77%)
4th: High Wycombe (3h39, 60%)
3rd: Leeds (3h31, 68%)
2nd: Exeter (3h33, 75%)
6th: Towcester (3h29, 50%)
1st: Birmingham (3h24, 90%)
3rd: SRCY (3h34, 80%)
4th: Southwark (3h44, 70%)
5th: Stockton (3h51, 65%)
6th: Chester (3h27, 59%)
2nd: St Paul's (3h38, 81%)
3rd: Guildford (3h36, 73%)
4th: Oxford (3h35, 71%)
1st: Bristol (3h33, 83%)
6th: Norwich (3h37, 55%)
2nd: Melbourne (3h39, 78%)
5th: Wimborne Minster (3h28, 65%)