Chief Judge: Frederick Shallcross
assisted by
Tom Griffiths, Chris Kippin and Mark Regan.
Congratulations to Birmingham who won this year's contest. For the complete results, please click the "Complete Results" tab.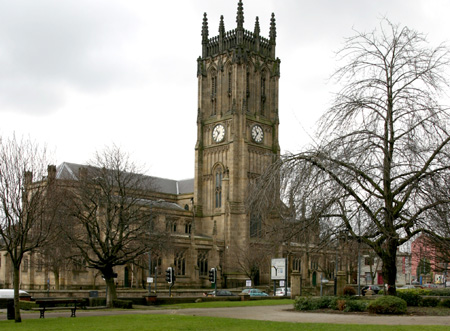 The final took place on Saturday June 25 2011 at Leeds Parish Church.
The draw was at 10.45am with contest ringing between 11.30am and 4pm.Full details of the day are available in a downloadable PDF here.
---
The eliminator results are now in:
Birmingham | Coventry | Evesham
Congratulations to ASCY, Birmingham, Bristol, Cambridge, Exeter, Melbourne, St Paul's, Stockton-on-Tees and York
who qualify for the 2011 final.
Test piece: Cambridge Surprise Maximus, 6 leads (eliminators)
Pudsey Surprise Maximus, 6 leads (final)
For only the second time, the eliminators will take place at three towers who have previously hosted the final: Birmingham Cathedral, Coventry and Evesham on Saturday April 2 2011.
The draw is:
Venue:
Birmingham
Coventry
Evesham
Local Information:
Click
Click (PDF)
Click
Judges:
Rick Shallcross
Chris Kippin
Andrew Mills
Bernard Taylor
Maggie Whiteley
Tom Griffiths
John Thurman
John Fielden
Mark Regan
Neil Bennett
David Moore
Paul Carless
11.00
11.30
12.00
12.30
13.00
13.30
14.00
14.30
Liverpool
Hursley
Southwark
Melbourne
Oxford
York
Birmingham
Norwich
Exeter
Leeds
Bristol
Towcester
St Martin's
ASCY
SRCY
Southampton
Cambridge
St Paul's
Guildford
Macclesfield
Stockton-on-Tees
---
If you've been associated with the 12-bell contest for some time, please take a look at the Missing Information page – you might just be able to help me fill in some gaps!