Notes for Host Towers
(Updated April 2018)
The following notes are designed to help local organisers of towers who are hosting an eliminator or final of the National 12-bell Striking Contest.  Anything in blue is a link to further details or a sample document from a previous contest.  More samples are available from the secretary if needed. We're not trying to teach you how to suck eggs!  If you have hosted a contest before, you won't need most of what follows but might find it helpful as a check list.
1. Offers to host a contest
The committee is always delighted to hear from towers who are keen to host a future contest. Venues are normally confirmed approximately 18 months in advance (for eliminators) and 3+ years in advance (for finals). Venues are selected to ensure the contest visits rings of different weights over a five-year cycle.
If you are interested in hosting a contest, please read the information below to get an idea of the requirements and contact the secretary or chairman by email for a brief initial discussion.
The committee reviews invitations to hold future contests at its meeting in September. At this point it is helpful if you can prepare a short document confirming the church authorities will grant permission to make the bells available on the day of the contest and that you are able to meet the other key requirements (see section 2 below). Any other details on your ideas for the day are also helpful at this stage.
2. Key requirements
As well as the availability of the bells on the day of the contest, the most important things required of venues are:
– availability of the bells for pre-contest practices in the two-month period before the contest (see section 6 below).
– a room for the judges to work from with access to power for technical equipment. It is highly desirable that this room is within cabling distance (<100 metres) of the belfry (see sections 10 and 11 below).
– an indoor space that can safely accommodate all teams and spectators for the draw and results – up to 200 people at eliminators and 500+ for finals (see section 13 below)
3. Working with the Contest Committee
The contest is run by a Committee of team representatives.  Your main contact will be with the contest secretary though, on the day, a committee representative will be on hand to help ensure that the ringing contest itself goes smoothly.  Of course it's not always possible, but if you are able to be involved right from the start to the finish, that is incredibly helpful!
4. Timescales
Eliminators usually take place on the 4th Saturday in March (though occasionally on the 3rd Saturday if Easter falls particularly early) and finals on the 4th Saturday in June.  Here is a more detailed list of Timescales
5. Rules
Though the committee representative is responsible for correct procedure during the contest, you will find it helpful to look at the Rules.  Clause 6 is particularly important in that it deals with pre-contest practices and the need to limit additional ringing (please ask the Secretary if you are in any doubt about this);  clauses 8, 9 and 10 are particularly critical on the day of the contest.
6. Church Liaison
Many churches have found that running an eliminator or final really helps cement relations with their clergy and congregation.  Splitting any profits from the catering, for instance, will be really appreciated and, if you tell the contestants that you're doing this, many will be happy to make small donations too.  Congregations are often an excellent source of experience in what does and doesn't work in your church and involving them will help relations in the future.  Profits can be worth it.  (Shoreditch made just over £250 for an eliminator in 2010;  Leeds just over £2,000 for a final in 2011, Aston over £3000 for a final in 2016, and Sheffield made approx £1000 for an eliminator in 2017).
7. Pre-Contest Practices
Teams like to have the opportunity to have a 90-minute practice on the bells during the two months prior to the contest so your help in co-ordinating these in your church's diary will be much appreciated.  The details are set out in the Pre-Contest-Practices document.
8. Information for bands
For the Ringing World advert and 12 bell website, the Secretary needs to know:
–              time and place of the draw
–              recommended parking
–              directions to the tower
–              available catering on the day
–              recommended pub(s)
–              anything else that you think people will need to know in advance.
Host towers usually provide a Leaflet  on the day, copies of which are left at the back of the church, giving information and space for people to record the judges' marks and comments. If you produce a nice version with glossy cover, people will be happy to pay for this. Aston sold 270 programmes for £1 each in 2016.
9. Schedule on the day
The usual schedule is 1100 draw with the first team ringing at 1130 though if a train arrives so that 11.15 or 11.30 would be more convenient or there is another event in Church, the draw can be moved slightly.  The judges usually ask for 5 minutes' ringing approximately 15 minutes before the draw takes place so that they can listen to the bells from inside the tower. The secretary will ask the chief judge to confirm the test ringing arrangements with you before the day.   Each team has a 30 minute slot.  Eliminators usually have 6 – 8 teams;  Finals can have as many as 10.    The results usually take place approximately 60-90 minutes after the last team finishes though we do not rush the judges into a decision so it could over-run.  It is best not to advertise an exact time for the draw in the programme circulated on the day, and instead the judges will send word (via a steward) shortly before they are ready to communicate the results.  There should be no ringing between the competition and results so that the judges can concentrate.  See a sample schedule for the usual format.
10. Judges
The committee appoints a chief judge at its meeting in September, then the chairman and chief judge work together to allocate the rest of the judging teams. They may visit each host tower to confirm a judging position or may leave this to the technical team. These days, most judges elect to listen to a sound feed taken from a microphone hung above the bells rather than rely on what they can hear through an open window. See the Judges' Requirements document for the details.
11. Technical Team
The sound feed referred to above provides 3 outputs:  to a set of speakers (for the judges to listen as each team rings), to a recording device (for the judges to playback any piece if they need to re-mark at the end) and to the Strikeometer (for the judges to check their deliberations). The committee will provide the necessary equipment and technicians to provide the sound feed but if you have someone in your tower that can be our main point of contact regarding the hanging of the microphone immediately above the bells, that would be very helpful.  If there is someone local who has experience of recording your bells, or who is interested to get involved in the process that's even better!  They may find the following documents helpful:  Recording-Strikeometer Advice to Host Towers and Teams, Recording Bells for Striking Analysis.doc, Instructions for Installation and Operation of Microtrack II.
12. Publicity
The contest secretary will deal will adverts in the Ringing World and will organise someone to write a report following the final.  That apart, you may find the local press or even local TV will be interested to know what is going on.  A sample press release may give you some ideas, though please do let the contest secretary (and your church authorities) know if there will be interviews or filming on the day.  They can be disruptive!  Providing them with a sound recording beforehand can sometimes help.
The committee has both Facebook and Twitter pages which you are welcome to use.  They've become very popular and may help to attract/retain your younger recruits too.  It's a good place to post informal photographs of the day.
13. Draw and Results
Nearly all members of the bands plus a large number of camp followers will be very keen to hear both the draw and the results. A large enough room is therefore required equipped with a microphone and loudspeaker system for use by perennially soft-spoken judges.  The nave of the church is often the most convenient as there may be 150+ at the eliminators and 700+ at the final.  It would help if you could provide a flip-chart and marker pens to display the draw and results (please follow the Draw-Results Pro-Formas layouts) and a 'hat' for the draw.   A committee representative will be appointed to take charge of the official proceedings though some towers like to ask their local vicar or other dignitary to say a few words of welcome too.  You can see the usual schedule in the Draw-Results Crib Sheet.
14. Refreshments
Many ringers travel a long way so welcome a hot drink and snack when they arrive.  Host towers have done a roaring trade in bacon sandwiches in the past!  You may feel able to put this on yourself or suggest and warn a local coffee bar to make provision.  As ringers are advised to arrive early the venue should be available at least an hour before the Draw.  There is generally a good steady demand for such refreshments throughout the day until the last band has rung.  Some towers have been able to organise beer tents and lunchtime catering rather than relying on local pubs though clearly not all towers can undertake this.   As the contest goes through lunchtime, most people will want to eat.  Some towers have the facilities to cook meals, but others provide lists of local pubs.  You may want to serve tea and cakes after the end of the ringing but please do bear in mind that many people will stay in the pub.
You might find the information gleaned from previous contests helpful, in which case, have a look at Sample-Catering-Prices-Quantities. Otherwise, here are a few miscellaneous tips from previous host towers on catering:
–              Keep prices rounded up/down for speed.
–              Don't stint on cash floats as you'll need them in the first few hours, in denominations that match the prices that you're charging for tea/coffee etc.
–              Someone with a handily convenient car to dash out to Tescos for more bacon-butty-making-materials is really helpful, just in case.
–              A vegetarian alternative to bacon sandwiches is always welcome, but you won't need many.
–              If you're going to provide a fish and chip van, hog roast company or similar it's really worth checking around for recommendations that you trust.  People are generally prepared to pay for quality.  The Ripon final in 2013 used 2 carcasses of hog and sold the bap at £4. The team at Southwell Minster in 2018 booked a grill van to provide breakfast and lunches which sold 120 covers.
15. Pubs
Contestants in the 12-bell contest are notoriously thirsty. Even pubs that have been forewarned tend to run out of beer, so it is very important to make arrangements with one or several pubs to expect a large number of thirsty and hungry ringers throughout the day and into the evening.  Landlords are often reluctant to get in too much extra beer because if we don't drink it they'll be left with the excess.  They're sometimes worried about upsetting their regulars with a large influx of strangers, but it's a good earning opportunity nonetheless.  Precise quantities are impossible to provide as consumption depends on location but 1500 pints is not unheard of.   Good attributes in choosing the headquarters pub include:  plenty of room, well-priced real ale and food, child-friendly policy, close enough to hear the ringing.  It is rare to find one perfect location, but often possible to nominate two or more that will keep everyone happy.
16. Beer Tent
If you're brave enough to supply your own beer tent, you'll almost certainly need a Temporary Event Notice.  Contact your local council who will explain what is needed.   Don't forget the beer will need to settle, so you may need to engage the services of a couple of overnight guards to make sure no one snaffles the barrels.  If you're nervous about quantities, providing polypins or barrels on sale-or-return for the end of the day will help.  Another way to get rid of excess beer is to buy in some 2-pint cartons and persuade teams to buy them for the journey home!  Cider is also popular, particularly if it is locally produced.
Quality rather than wide selection is what's most appreciated by teams, and you really want a good session ale at ~ 3.8% the people can drink all day!
As a guide to likely quantities (which will of course vary based on location of the contest and number of competing teams) at the 2018 eliminators, Southwell at Southwell Minster the Welbeck Abbey brewery sold 4 barrels on site, along with 10 5-ltr mini kegs and 8 x 12-pack bottles as off-sales. Ossett sold around 250 pints of beer, whilst the Selby Abbey team managed to shift 350 pints of bitter and 40 pints of cider (all eliminators had six competing teams, plus spectators).
Consumption is much greater at Finals. In 2016, Aston sold 1400 pints (from 25 firkins) of beer, along with 120 pints of cider (from four 20-ltr boxes) and 15 bottles of wine.
17. For Families
Many competitors and spectators will bring their children with them to the contest – particularly for Finals. It's excellent if you're able to provide something to keep them entertained (Aston had a bouncy castle, giant outdoor chess set and craft room in 2016) but it's important that any activities provided are risk assessed and safeguarded (see section 26).
If you're not able to provide activities on-site, suggestions of local attractions for families (e.g. museums, parks, swimming pools etc.) will be appreciated by teams and spectators so they can plan their day accordingly.
18. Local Angle
Something which makes you stand out from other contests may well be something particular to your area:  Devon cream teas, local beer or cider, local pork pies.  If there's a particularly interesting feature in your church, information about it, or maybe even a guided tour of it, could go down well.
19. Volunteers
You will need quite a large pool of helpers on the day but the numbers will vary and depend on how many facilities you are able to offer.  Generally the minimum is likely to be 12, though a complicated final could easily need 40+.  At Ripon in 2013, the final was used to get the whole District together, with 100+ involved so that people only worked shifts of a few hours each.  Specifically, we ask you to provide:
–              Teams' Stewards to meet each band and guide the way to the ringing room. S/he will need to wait just outside until the test piece has started and then return downstairs to ensure that no-one gets in while the test piece is being rung.  They are not responsible for any timing but they must be given a copy of the Rules (see Rules section) – specifically clauses 8, 9 and 10.  The minimum number would be two but is often more if it is a long walk.
–              A Judges' Steward (see Judges section)
–              A Scribe (see Draw/Results section)
20. Bells
It is impossible to insure against all mechanical failure on the day, but anything that can be done to minimise the chance of a mechanical failure (especially with ropes) will be very much appreciated.
21. Ringing Room
There's no real time to adjust ropes, so having a variety of boxes available and allowing temporary knots in ropes will be really helpful.  If you know that strong sun affects visibility from time to time, a blind would be useful too.
22. Clocks
Because the timing of when teams start is critical, you will receive two radio-controlled clocks before the day, normally when the Strikeometer Coordinator visits to install the other technical equipment. On the day, one clock needs to be placed in the Ringing Room and the other in the judges' room.  If you already have your own clock in either space, please cover it up to avoid any confusion.  The conductor for each team needs to be able to see the clock in the Ringing Room face-on and as we don't know which bell s/he will ring, it should be free-standing rather than hung on a wall if possible.  A box or table in the middle of the circle is ideal.
23. Toilets
With so much food, drink and nerves floating around it won't surprise you to know that a reasonable supply of toilets – and toilet rolls – is pretty crucial!  If you're fortunate enough to have plenty to choose from and can dedicate one toilet to the judges, that's really helpful so that they don't rub shoulders with contestants whilst the contest is under way.
24. Insurance
For your own peace of mind, it is worth checking that the event will be covered under your church's public liability insurance.  The contest does not have its own separate insurance policy.
25. Health & Safety
Again, for your own peace of mind, you may want to get someone to do a risk assessment once your plans are clearer.  This might include things like:  making sure everyone knows what to do if there's a fire;  having lots of gaffer tape on hand to tape down trailing wires;  making sure there are warning signs up if there are loose floorboards or wonky steps.
26. Safeguarding
Host towers should ensure they have a safeguarding policy in place on the day of the contest to consider the safety of both under-18s and vulnerable adults. In the main, children are supervised by their parents but this is not necessarily exclusively the case. If you are planning to provide specific activities for children that are not going to be supervised by their parents then this needs to be considered carefully. Notes about the safeguarding policy that was put in place for the final at Aston 2016 are available, but it is more important that host towers work with the safeguarding officials for the church and local association / diocese to make sure that they are following the relevant procedures.
The remaining comments usually apply just to finals…
27. Contest Photographs
For finals only, it is usual for the host tower to arrange for a photographer to take band photographs immediately after the draw has taken place on the day.  These are usually used in the report for the Ringing World.  Someone with a reasonable quality digital camera will be fine for this and, to avoid them having to hang around all day, it's a good idea to ask all teams to assemble at a given spot immediately after the draw has taken place.  A good 'whipper-in' to get the process over as quickly as possible may help too.
28. Contest Certificates
For finals only, the host tower is asked to provide certificates for all teams.  The easiest way to produce these is to design an electronic template and ask the Chief Judge to provide scanned signatures of those on the judging panel.  After the final is over the Secretary can send you scans of the team lists to produce a PDF which can then be distributed to each team.
29. Form Guide
In recent years it has become common to add a 'form guide' in to the Leaflet.  This is at your discretion but if you do decide to do this, please contact each team leader for their script and, if in doubt, check it with the Secretary prior to publication.  This is usually a lighthearted and fun element, but 'nice to have' rather than essential.
30. Raffle/Tombola              
Check whether you need a licence with your church, but this is a good way to raise funds.  Raffling a peal attempt at a rare tower will be popular!
31. Cash Flow & Financial Planning
Particularly for Finals, there is often quite an amount of up-front funding required.  Hosts will sometimes be fortunate enough to be able to deal with this themselves or by using tower funds until the day, but careful budgeting really is essential.
Having a wet-weather backup plan is really important, as many 'hangers-on' may decide not to come at the last minute if the weather is bad and no shelter is provided.
32. Sponsorship
You may strike it lucky with local businesses, but don't be too optimistic with your budgeting in this respect.  Aim to cover your costs from income on the day.
33. Local Police
Particularly if you're in the middle of town, you might find it helpful to talk to your local police force to warn them what's being planned.  Some town centres have drink-related problems to contend with so they should be able to give good advice to help things go smoothly.
34. Rubbish
The humungous rubbish collection points instituted at Crediton and copied at Leeds worked really well.  You can see a picture of Emily Bloom modelling the Leeds one here.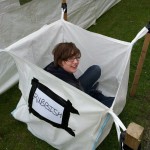 35. St. John's Ambulance
A crew were hired (at a cost of £150) at Leeds in 2011, though this was subsequently felt to be unnecessary.  Having a basic first-aid kit available, however, and making sure your volunteers know where it is is a good idea.
36. Engraved or Printed Glasses
A good way of avoiding washing up! Keep a few rolls of masking tape and marker pens available for people to write their names on their glasses. In 2016, Aston sold 320 glasses (of 480 ordered). They sold them at £2 when bought with a pint, and then at £3 singly later on. If you are able to provide bags for people to take their glasses home in, this is a bonus – but not essential. Oxford sold 350 glasses in 2014 but felt they could have sold 50-100 more.
37. Accommodation
If your tower is well-served by public transport you will probably find that most people do a day-trip.  Even so, some like to make a weekend of it and will enjoy using the excuse to explore.  If you have the time to research local accommodation, with rough guide prices, that would be great and the information can go up on the 12-bell website.   If there's a particularly nice local pub which could be named as THE place to head for on the Friday night, for instance, that will go down well too.  But ringers are good at sniffing out beer…
38. Evening Entertainment
Some towers have put on entertainment immediately following the contest.  For towers where there is likely to be a high percentage of people staying over (i.e. where public transport is difficult) this is much appreciated, but it really is over and above what is expected.  It's a long and tiring day, don't forget.  As long as there's the opportunity to carry on socialising with friends for those that want it up to approx 7pm that's usually all that's needed.